VOLUNTEER OPPORTUNITIES
Never doubt that a small group of thoughtful, committed citizens can change the world; indeed, it's the only thing that ever has. ~ Margaret Mead
How can I get started?
Welcome to Florida Foster Care Review!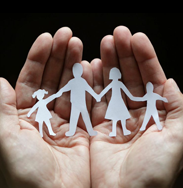 Florida Foster Care Review (FFCR) harnesses the power of community volunteers to advance the safety, stability and success of abused and neglected children by connecting them to essential services, healthy relationships and forever families.
To achieve its mission, Florida Foster Care Review recruits, trains and supervises volunteers who, as part of the Citizen Review Panel (CRP), review cases of youth in foster care to ensure that they are safe and receiving needed services. Together with child welfare professionals, FFCR also works to ensure that children and youth leaving the foster care system have someone they can call family. Through all its programs, Florida Foster Care Review tracks and analyzes outcomes in order to advocate for system changes that improve children's lives.
Want to learn more about the GuideStar Exchange? Click here
Thanks to the powerful synergy between our dedicated volunteers, generous donors, talented staff, and supportive community partners, 2018 has been an incredible year for Florida Foster Care Review. With your support, we have successfully connected hundreds of foster children to critical services and lifelong families.

As the year comes to a close, we take time to celebrate these accomplishments. However, there is still much work to be done!

Before the ball drops on December 31st, please give the gift of hope to the many abused and neglected children who need our help!

#HappyNewYear #FFCR #MakeADifference #Donate #FloridaFosterCareReview #Facilitate #Advocate #Innovate #Evaluate ... See MoreSee Less