Impact: Ana Ansola
A Shining Star in the Wake of Hurricane Irma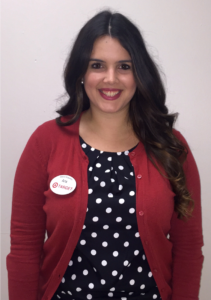 Florida Foster Care Review's (FFCR) amazing volunteers often go to great lengths to help children and families in our community. Ana Ansola is a perfect example! In the days immediately following Hurricane Irma Ana answered the call for help for foster families. Ana, who is Executive Team Leader in the Human Resources for Target, learned that many foster families were in need of the basics. Without hesitation, she leveraged her connections and secured $500 in Target gift cards.
Ana is no stranger to volunteering. She has previously volunteered with special education students and Adopt-A-Family. She has also volunteered extensively through Target, participating in beach clean ups and library and playground makeovers.
Ana decided to volunteer for FFCR as a member of one of our Citizen Review Panels because she wanted to get involved in an organization that helps children in foster care. As the godmother to a wonderful little girl who was adopted from foster care by her dear friends in May 2015, she saw firsthand what a difference one person can make.
Ana explained, "Seeing their process has had an impact on my life, and when I found out about Florida Foster Care Review, I knew this was the perfect fit for me."
We are extremely fortunate to have Ana's grassroots experience and passion for volunteerism. To learn more about how you can get involved, please visit www.fostercarereview.org/get-involved/volunteer.