Spotlight: Valerie Collins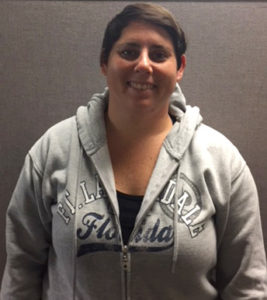 Florida Foster Care Review (FFCR) would like to congratulate Ms. Valerie Collins, a case manager with The Center for Family and Child Enrichment, Inc. (CFCE), who was FFCR's Child Welfare Professional of the Month for August 2017. Ms. Collins was selected by staff and Citizen Review Panel (CRP) volunteers because of the professionalism she demonstrated during Citizen Review Panel hearings, her extensive knowledge of her clients' needs as well as her thorough presentation skills. Although the child she serves was relocated to North Florida and has been assigned an Out of Town Inquiries (OTI) worker, Ms. Collins is completely dedicated and is in constant communication with the foster parent of the child assigned to her.
Ms. Collins has been working in the mental/behavioral healthcare field since 2013 and is currently an adoption dependency case manager for CFCE. She earned her Bachelor of Science in Behavioral Health Care in 2014 from the University of South Florida and is currently pursuing her Master of Science in Mental Health Counseling at Nova Southeastern University.
Florida Foster Care Review is grateful to have dedicated professionals such as Ms. Collins helping to create a better tomorrow for foster children and youth. Click here to learn more about our Citizen Review Panel (CRP) program.