FFCR Launches New Legacy Circle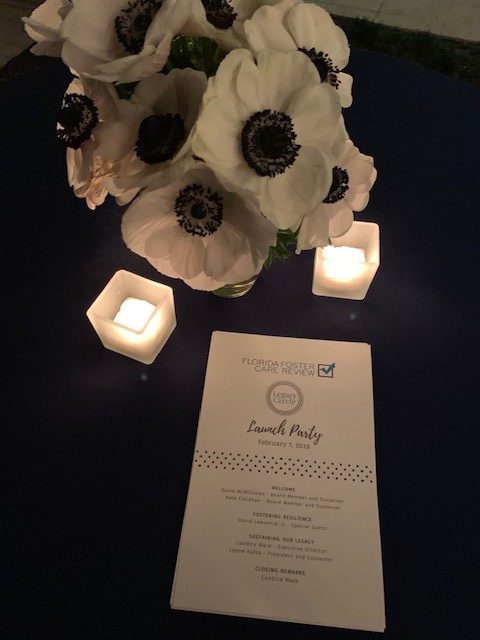 On February 7th, more than 30 of FFCR's friends and supporters gathered at the home of David and Laurie McWilliams to launch our new Legacy Circle, an exclusive group of engaged stewards who have contributed or have committed to contributing $10,000 – $30,000 over a three-year period. The Legacy Circle was developed in order to sustain FFCR's critical work on behalf of children in foster care long into the future.
Generously underwritten by long-time supporters and Legacy Circle members, Peggy & Doug Hudson, the event honored our 14 Legacy Circle members and featured remarks by special guest David Lawrence Jr., former publisher of The Miami Herald and founder, former CEO, and now President of The Children's Movement. Speaking from personal experience, Mr. Lawrence shared his insights about building resiliency and the responsibility we have as citizens to foster positive outcomes and educational opportunities for every child in our community, state and country. Connecting with Florida Foster Care Review's work, Mr. Lawrence said, "Everybody needs the right blend of health and education and nurturing and love – and I emphasis love because if you grow up without love you are a very incomplete human being."
Guests were treated to signed copies of Mr. Lawrence's memoir "A Dedicated Life: Journalism, Justice, and a Chance for Every Child," and enjoyed delectable hors d'oeuvres and dessert by the talented Chef David Schwadron.
We would like to recognize and express our gratitude to all of our Legacy Circle members:
Benefactor
$30,000 or more
Peggy & Doug Hudson
MaryAnne Lukacs
Protector
$20,000-$29,999
Suzanne & Brad Meltzer
Sustainer
$10,000 – $19,999
Kate Callahan & Peter Benjamin
Lisa & John Chidsey
Commissioner Sally Heyman
Lynne & Carl Kafka
Kaisa & Doug Levine
Mitchell & Lourdes Marenus
David & Laurie McWilliams
Stephanie & Michael Rosen
If you are interested in learning more about the Legacy Circle, please contact Candice Maze, FFCR's Executive Director, at cmaze@fostercarereview.org.